Will Reynolds has been doing some amazing things! He attends school and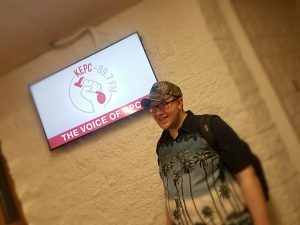 Pikes Peak Community College and is majoring in Communications.  Will loves going to school and is excited for the fall semester to begin. 
Will's goal is to have a career as a Radio DJ. He has been volunteering at KCMJ 93.9FM for the last 2 years and has his own equipment at home where he records the weather and hosts his own music show. 
Will has a passion for music. He has his own music studio at home and is learning to play the drums and the guitar. He practices on his instruments a few times a week and is working hard to become a great musician. He also has an extensive music collection that includes vinyl, cassettes, and CDs. 
Will has decided to live a healthier lifestyle. He has joined a weight loss program with the Developmental Disabilities Health Center (DDHC) where he calls in twice a week and has started to exercise on a regular basis.  Through the services he receives with TRE, Will is learning to cook healthy meals and budget his money.