We are empowering people, strengthening families, and building inclusive communities. Your support helps more people with disabilities or delays, mental health or long-term care needs have the services and supports they need.

You can make a difference today:


Make a secure, online donation: Donate Now!
Become a member of the TRE Monthly Giving Club! Click here.
Donate by check or cash to:
The Resource Exchange
ATTN: Kelly Lyng
Development Director
6385 Corporate Drive Suite 100
Colorado Springs, CO 80919
Additional ways to support our mission:

Partner with us or sponsor an event! 
From GoBabyGo! events to annual giving campaigns, TRE events and sponsorships are unique ways to connect with your community and support our mission. Contact Kelly Lyng, Development Director, at
klyng@tre.org
.

Sign up for KingSoopers Community Rewards!
Do you shop at KingSoopers? If you have a SooperCard, you can now help TRE with every grocery trip!  
Sign into your account here: www.kingsoopers.com/i/community/community-rewards and click on Community Rewards to select The Resource Exchange.
A percentage of your purchase will be automatically donated to TRE.  




Shop at the NEW TRE Online Store!
Find hoodies, stickers, and more at our new store! A portion of all purchases is donated back to TRE. Shop here. 

Host a Facebook Fundraiser!
You and your friends can make big impact on your community: have a Facebook fundraiser for TRE! Get started at www.facebook.com/fund/tre.org/.

Volunteer for TRE!
We have a place for everyone! Please visit our Get Involved page to learn how to give the gift of time.

Engage with us on TRE social media!
Connect with us on TRE Facebook, Instagram, Twitter, LinkedIn, and YouTube and stay posted on the latest at TRE!

Sign up for our e-News!
Let's keep in touch! We'll send you our quarterly e-news with events, announcements, and ways to volunteer! Sign up here.

Include TRE in your will or Estate Plan.
Please contact Kelly Lyng, Development Director, for more information about legacy giving to TRE.
klyng@tre.org
719.377.4997
TRE's Federal Tax ID is 84-0532684.
Make a qualifying charitable donation to TRE from your stocks or 401K.
Contact klyng@tre.org about charitable giving from your assets.
Refer someone to TRE!
Referrals are the highest compliment we could receive from our community. Either from a family, someone we serve, a community partner, a caregiver, or someone we have impacted in a positive way, your referral is valued and appreciated. If you know someone who might have questions or need our assistance, please send them the link to our Intake Form at
www.tre.org/intake-form
or refer them to (719) 380-1100.
Your Impact In Our Community!
Your donation truly makes a difference and helps fill the gaps that people in our community face every day. Help us reach more people and families by giving where you live!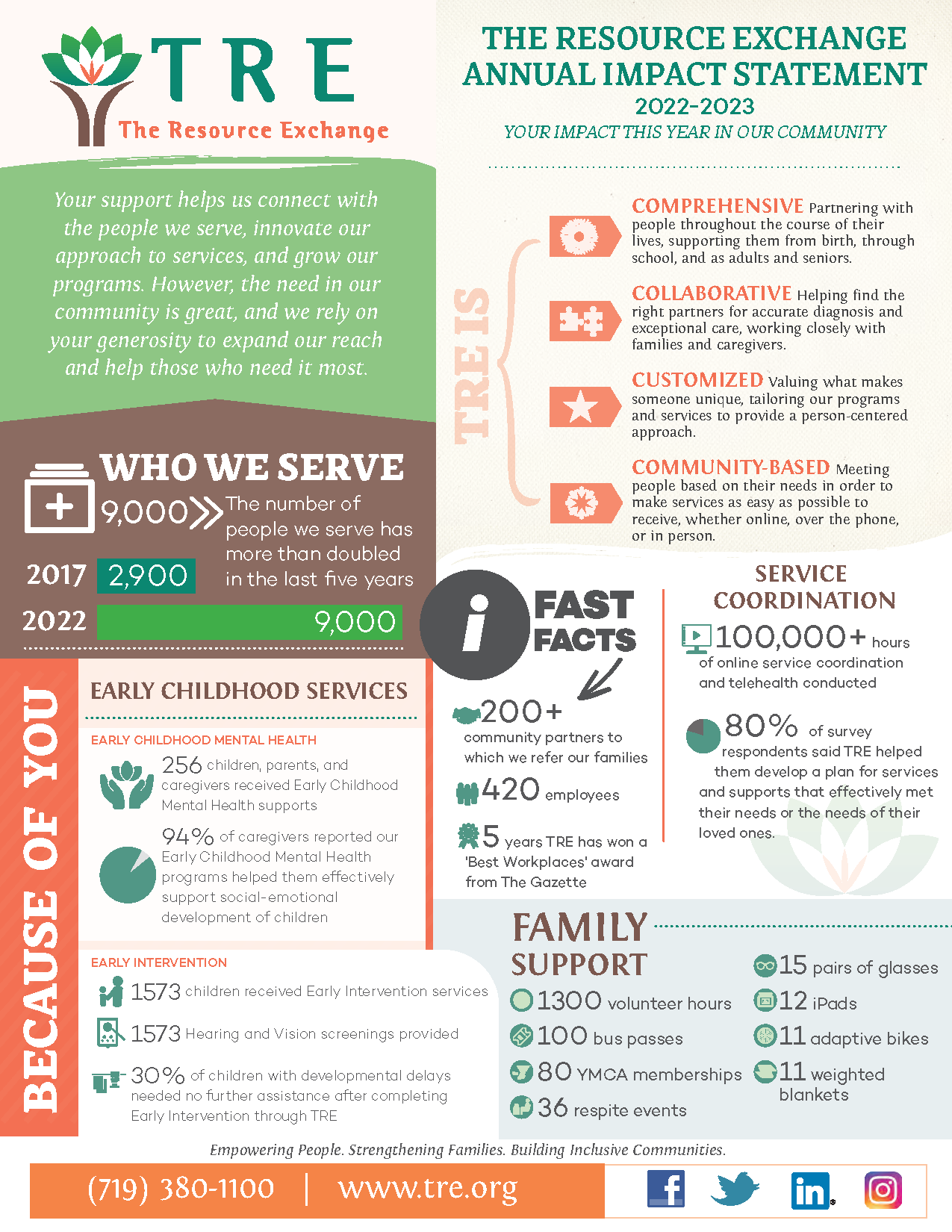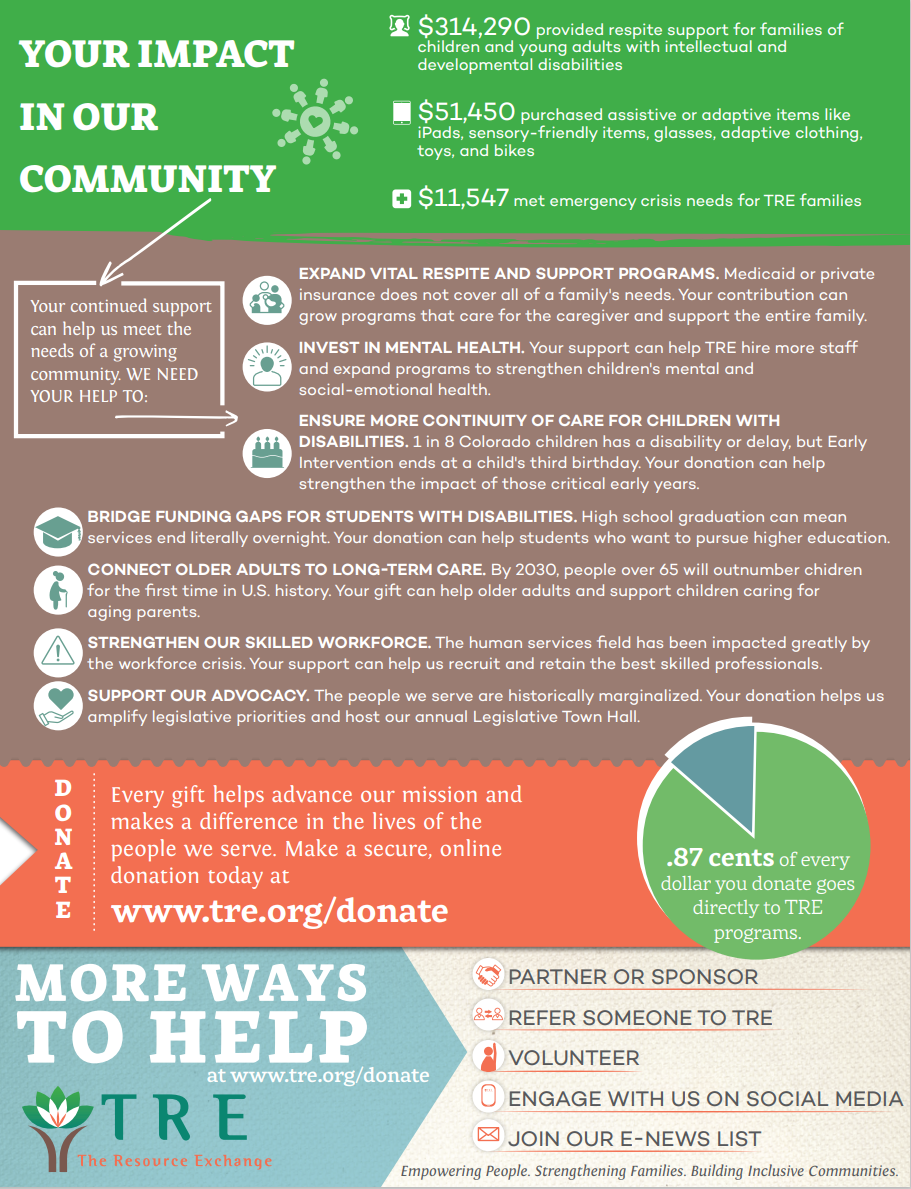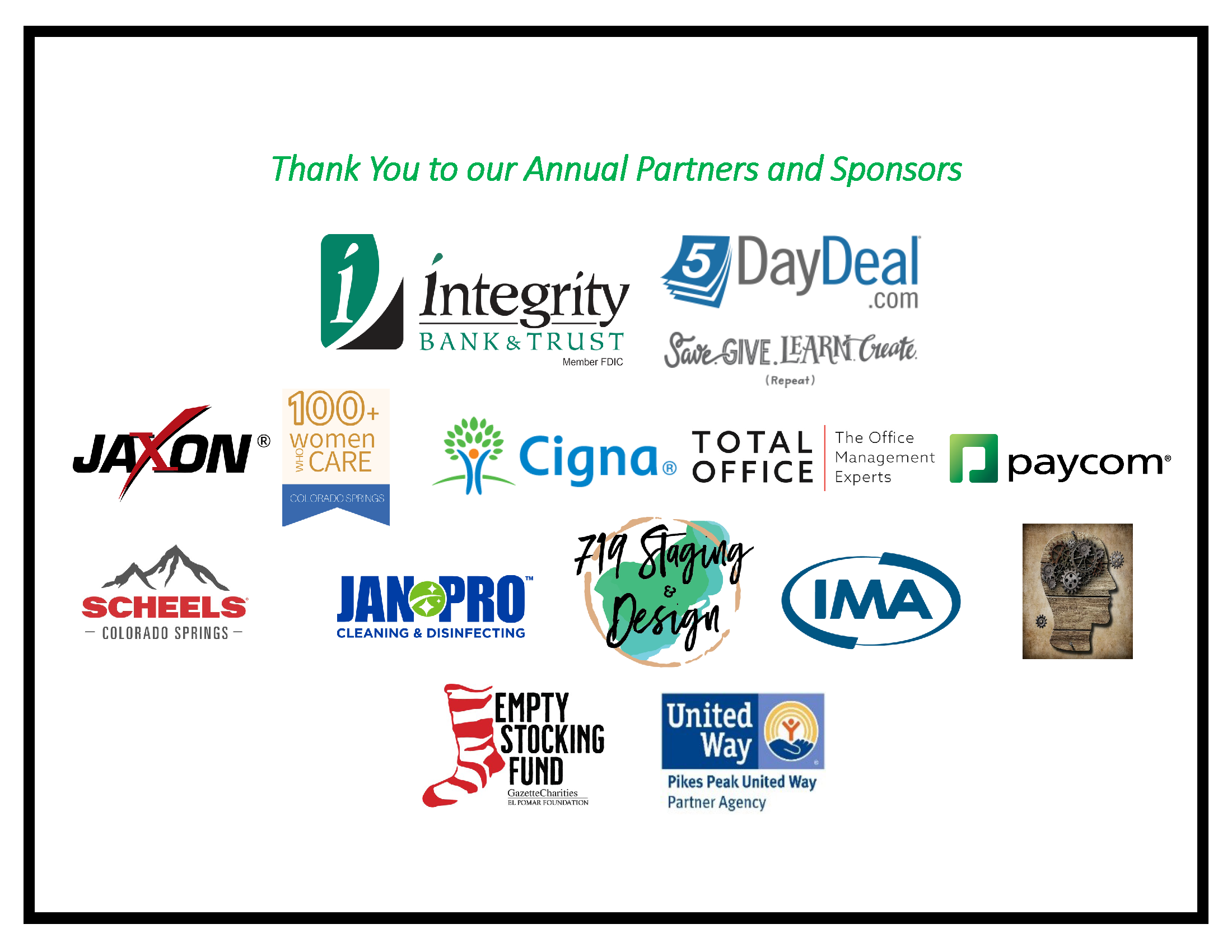 We honor our donors' investment in our work, as well as their right to privacy by strict adherence to the Association of Fundraising Professionals'
Donor Bill of Rights
and
Code of Ethical Standards
.