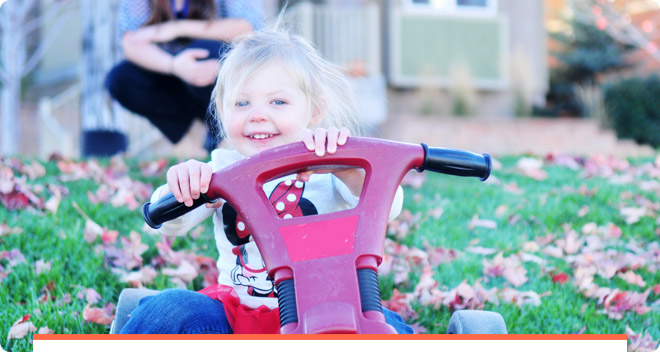 Early intervention provides developmental supports and services to children birth through three years of age, who have special developmental needs. It can help improve a child's ability to develop and learn. It can also help parents and family members learn ways to support and promote a child's development, within the family's activities and community life.
Update from Early Intervention Colorado:
For more information, please visit www.eicolorado.org.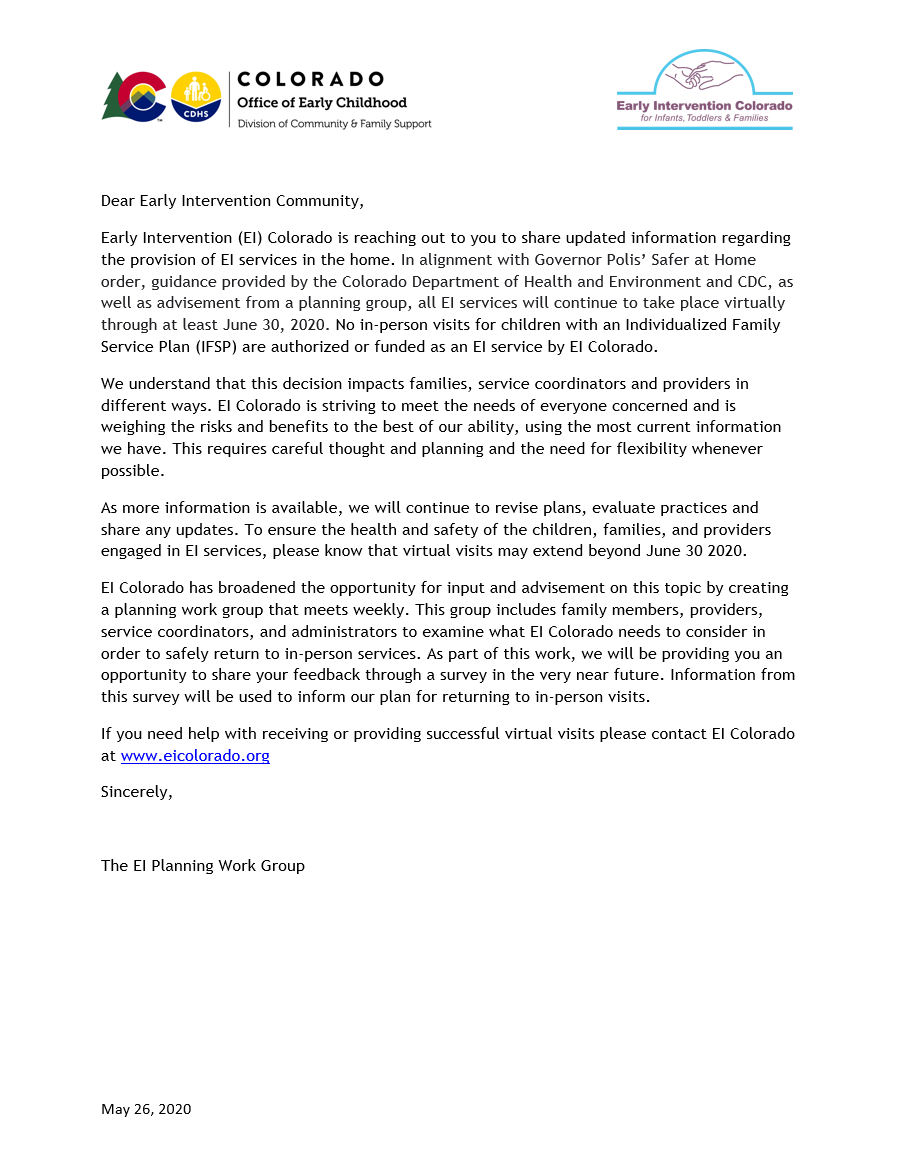 Early Intervention at TRE
Early Intervention
teams are geographically located throughout southern Colorado and comprise a collaborative group of physical, occupational, speech, and behavioral therapists, developmental interventionists and nutritionists who work together to come up with the most effective treatment plans for the infants and children they serve. The Resource Exchange partners with local school districts to determine eligibility and then deliver services in the child's home.


Because an infant or toddler learns through his or her interactions with caregivers, parents and other caregivers are important members of TRE's Early Intervention team. TRE's Early Intervention program employs and contracts with many early intervention service providers. These providers maintain appropriate credentials and licensure for their professional disciplines.
When is a Child Eligible for Early Intervention?
If the family and child lives in Colorado
The child is 0-3 years old
The child is determined eligible based on one of the following criteria:
1)
Developmental Delay
A child may be determined eligible because he or she has a significant delay in one or more of the following developmental areas as determined by a comprehensive, multidisciplinary evaluation: thinking and learning skills (
cognitive development
); moving, seeing, and hearing (
physical development
); understanding and using sounds, gestures, and words (
communication development
); responding to and developing relationships with other people (
social-emotional development
); taking care of one's self when doing things like feeding or dressing (
adaptive development
). 
2)
Diagnosis
A child may be determined eligible because he or she has been diagnosed with a physical or mental condition that has a high probability of resulting in a significant developmental delay or disability as the child gets older, even though the child may not currently have an observable delay or disability. A list of conditions that will qualify a child for early intervention services in Colorado is available at
Early Intervention Colorado
 within the family section.
3)
Parent has a Documented Developmental Disability
A child may be eligible for developmental intervention and parent education services if the child's parent/s have a documented developmental disability.
What services does Early Intervention provide?
Developmental Intervention
Occupational Therapy
Physical Therapy 
Speech Language Therapy
Social-Emotional Services
Psychological Services
Health and Medical Services
Nursing Services
Assistive Technology Services
Audiology Services
Sign Language and Cued Language Services
Vision Services
Nutrition Services
Transportation Services

What do I do next? 
Our Navigation and Quality Department will assist you through the process. Anyone can refer a child under the age of three for whom they have a concern about the child's development. Referrals and inquiries can be made by calling 719.577.9190. A Service Coordinator will be assigned and assist you in learning more about early intervention, completing necessary paperwork to determine if the child is eligible for services, and locating other needed community resources.

Helpful Links
Before Your Child's Evaluation and Assessment
How is eligibility determined?
What are my rights and procedural safeguards?
TRE Early Intervention brochure
What Is A Service Coordinator?
Free childhood development materials from the CDC
Bright by Three childhood development website
Early Intervention Rules and Statutes
Early Intervention Colorado
For more information, please call TRE at 719.577.9190.
---