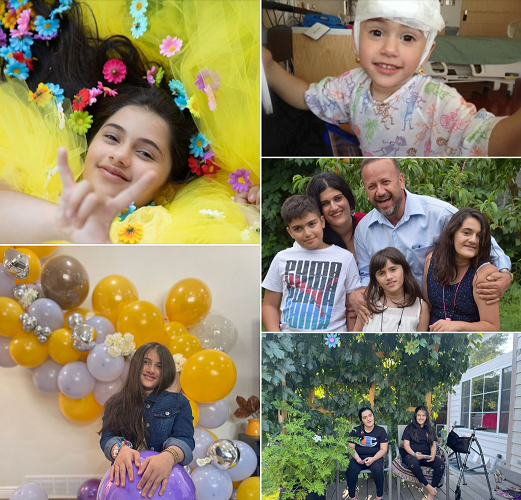 Nazar and Sana Gozeh are the parents of three children, two of them with a rare disability. Their two daughters, Vina (15) and Lena (11) have a rare genetic condition known as pyridoxine responsive epilepsy, approximately only 50 known cases in the United States. This genetic condition caused up to 100 debilitating seizures or more a day for the girls when they were younger. Both girls also have autism, intellectual delays, and speech, behavioral, and sensory differences.
Nazar explains, "the girls' condition brought my wife and me to our knees. We almost filed for bankruptcy. I resigned from my work as an engineer and my wife could not work as we were constantly at the emergency room and doctor's appointments. Finally, about four years ago, our daughters' conditions were diagnosed, and a persuasion medication was prescribed. This was life changing as their seizures came down from 100 times a day to none!"
Nazar says, "We connected with The Resource Exchange and our daughters qualified for the Children with Extensive Support (CES) waiver. In addition to speech and physical therapies, they also get massage and movement therapies. We as parents also get some free time with respite care. For the first time in 15 years, I was able to take my wife for dinner and a movie last year!"
The girls love decorating so through an inventive and entrepreneurial spirit, the Gozeh family just launched
@InstaBalloonCreation
a small business right here in Colorado Springs. Naming their new business after their daughter, Vina, these sensory-friendly balloon creations create joy while their story spreads awareness about rare syndromes and disabilities. Learn more here:
https://instaballooncreation.com/pages/our-story
.
Nazar adds, "Colorado offers many different waivers to families with disabilities. It takes a lot of work and learning. For our family, it required both mom and dad work full time as caregivers to support both girls' needs. The Service Coordinators at TRE have been very helpful. TRE helped us get some home modifications we needed and also obtain two special low-ride and stable tricycles. With the help of a TRE physical therapist, our daughters learned how to ride them independently. Thank you, TRE for your continued help."