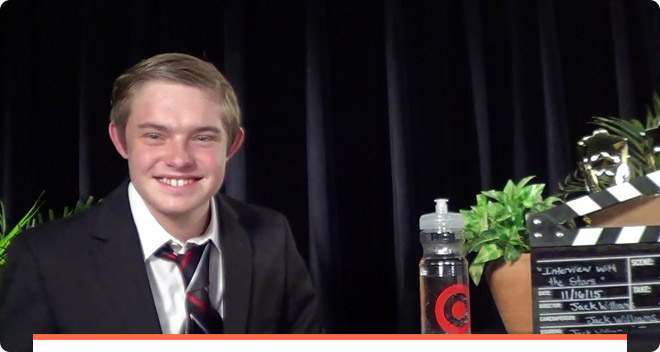 With the Arc Film Festival coming up on March 23rd, I thought this might be a good time to share the story of my son, Jack Williams, local film maker and TRE service recipient for the past 10 years, currently in the care of Kelly Izard.
Jack's autism left him functionally non-verbal until the age of 9 when he began shooting videos on an old cell phone. His sudden and dramatic path to language was the subject of a 2010 documentary called "Jack and the Video Camera." Later the same year, Exceptional Parent Magazine ran a 5 page feature article on Jack and his unexpected conquest of language. Meanwhile, Jack's unusual cell phone videos began winning awards at the city, county and state level. In the spring of 2012, the National PTA honored Jack at their Annual Convention in San Jose. There his film work so inspired the judges of the National Reflections Program for the Arts, that they were moved to establish a new division of the program in Jack's honor for children with special needs.
Also in 2012, Jack received the Arc's Outstanding Achievement Award to a standing ovation at the annual dinner and award ceremony. It was the first time this award was ever given to someone under the age of 18.
The following year, the Arc invited Jack to submit a film for consideration for the 2014 Achieve With Us Film Festival. Jack responded by shooting a film about the kindness and support he was then receiving from the female students at his middle school. "Pretty Girls" made it into the Festival, as did Jack's film "Happy" at the following Festival in 2015.
This month, Jack will have his third film in a row screening at the Achieve With Us film festival. "Interview With The Stars" is a six-minute tongue-in-cheek look at self-advocacy. You can see a preview of it here.
Let me just conclude by saying that if it weren't for TRE, I would probably be stone broke by now, living under a bridge with a still non-verbal Jack parked in a "borrowed" grocery store shopping cart. Your organization has done more for us than I have the words to express. Thank you so very, very much!!!
Joy
(Jack's mom)