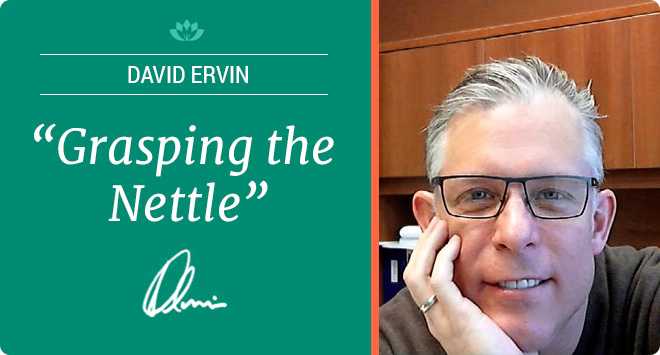 After our introduction – and an interminably long pause – we are back to Grasping the Nettle.  And, in the spirit of Grasping the Nettle, we're happy (we think) to offer our thoughts on the goings on in the US Congress related to healthcare and Medicaid reform.  In full disclosure, our thoughts are not happy ones.

Let's start at the end.

The US House of Representatives' version of the American Health Care Act (AHCA) will hurt people with intellectual and developmental disabilities (IDD).  Badly.  There's no way to sugar coat this, and no amount of rationalization makes it better.

The AHCA contains significant changes to Medicaid and how the federal government finances Medicaid services.  Most of the rhetoric in the debate has focused on traditional healthcare.  Far less prominent in the debate has been Medicaid-financed long term services and supports, the kind of services on which countless people with IDD rely.  In fact, Medicaid is the primary funding source for nearly 80% of people with IDD who live in their home communities.  As The Arc of the US puts it, these Medicaid-financed supports provide dignity to people with IDD by providing help with meals, bathing and dressing, toileting, in-home skilled nursing, and communication support, to name but a few.  These supports can be the difference between life and death.

Now enter the AHCA.  As it stands, in federal fiscal year 2020 (which would begin in October 2019), Medicaid financing will change to a block grant structure, based on a per capita per state cap. Estimates of the total impact of this and related changes to Medicaid are as high as…brace yourselves…$900 billion.  Yes, billion.  With a B.

Congressional Leadership has gone to great lengths to tell us the "States can make up the difference," essentially shifting the funding obligation to the States' discretion.  As we Coloradoans know, any such scenario would first have to be taken to the voters as a tax issue (on the premise that to make up $14 billion in revenue losses from the fed, we'd have to raise taxes here at home.)  And please forgive us being skeptical that Colorado taxpayers would be willing to tax themselves to this purpose.

Knowing the Coloradoans with disabilities and older Coloradoans rely heavily on Medicaid-funded health insurance and long term services and supports; and, knowing that about two-thirds of Medicaid spending is on services for the elderly and people with disabilities, who comprise only about 25% of Medicaid recipients nationally, the disproportionate impact of the AHCA on Coloradoans with disabilities and older Coloradoans is clear.

We believe we must act to protect life sustaining Medicaid benefits for people with intellectual and developmental disabilities.  With thanks to our pals at The Arc of the US, see the major provisions of the AHCA.  Educate yourselves.  And then, as you may be inspired, speak your mind. 

Go Find your Representative and your Member of the Senate and share your thoughts.  Remember, members of Congress ultimately work for us.  They do listen.  Make sure you make yourself heard.  It seems to us there is plenty at stake and much for which we must fight.   
---

May, 2016
I've always found the notion of a blog somewhat amusing. To write a blog forces the writer to make a set of fairly sweeping assumptions, not least that people would be interested enough to want to read the writer's musings. It takes a fair fit of confidence to make such an assumption. Or delusions of grandeur.

Yet, blogs can be a fascinating way to engage people. And, they can offer a glimpse into different worldviews, which I believe is an opportunity to learn.

On the premise that we can achieve those latter ends, I am delighted to welcome you to Grasping the Nettle, a blog dedicated to issues of importance to people with intellectual and developmental disabilities (IDD), their families, their support systems and its stakeholders, and to The Resource Exchange (TRE). Our vision, a la Seinfeld, is a "blog about nothing." IDD-related, of course, but otherwise random thoughts of those of us who find ourselves working with people with IDD. We envision guest bloggers—people internal to TRE and external. We envision guests who are found among our supporters, our stakeholders, our families…really anyone with an interest in IDD. My role will be a kind of blog moderator, as it were. I'll write some, and leave the writing of others to others. We'll not blog everyday—we're unlikely to even follow a particular schedule. When issues of interest come up, we'll write on it and invite our community to jump into whatever dialogue ensues.

Mostly, we seek to use Grasping the Nettle as a means of engagement. That's where you come in. See an opinion with which you disagree? Weigh in. Have a different take on an issue? Add it to the discussion. Want to see us take on a particular issue? Let us know. Let's use Grasping the Nettle as something of a 'chat room'. We all have opinions—so let's exchange them. That will bring the blog to life, and that, my friends, is what we want!

Watch this space for blogs to come. We'll deal broadly with issues of importance, at least to us. There's always lots to talk about, and we'll seek to talk about stuff here. From employment to affordable housing; from healthcare to long term services and supports in Colorado; from the entirely intellectual to the unavoidably emotional; and, from this to that, we will introduce a whole range of hopefully interesting, informational, and inspirational issues. Stay tuned.

Oh, and by the way, if you happen to find yourself in the British Isles and someone suggests you "grasp the nettle," you are being encouraged to deal bravely with a challenge. I love it. And so it was that Grasping the Nettle was born…